Hire Tempo Traveller from Delhi to Dehradun
Its summer season and visiting to a hill station or a family function to dehradun would be a good option to travel in summer. But what to do when the number of family members or friends increases from 6 as you would require a large vehicle to accommodate all the passengers. In such case the requirement to hire a tempo traveller arise. Tempo Travellers that we provide on rent from Delhi. They are luxury Tempo Travellers which you can hire tempo traveller from Delhi to Dehradun in Uttaranchal.
You can hire 9 seaters tempo traveller to travel from Delhi to Dehradun, 12 Seater seater tempo traveller or 15 Seater tempo traveler  and choose any one from them for your tour to Dehradun from Delhi. If you are preparing for a tour from Delhi to Dehradun in Uttaranchal. We will provide you with the best-suited beat traveler on rent according to your budget and tour itenary can also help in planning tour to nearby destination which you can visit  at Dehradun in Uttaranchal.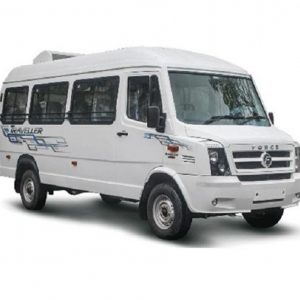 About Dehradun places (Step by Step)
Dehradun is the capital city of Uttaranchal, It is the complete mixture of city and hill station.Dehradun is set in the foothills of Himalayas mountains at the center of the 120 km long Doon Valley.
The name of the Dehradun is literally made from two words where Dera means "Camp" and Dun stands for "Valley". Hiring  Tempo Traveller from Delhi to Dehradun is the best option for comfortable travel with enjoying with your family members in route by listning music and playing all together at one place.
The beautiful city is referred to as the gateway to "Mussoorie" and "Garhwal" interior. It's may be one of the oldest cities in India.
It was occupied in turns by the Sikhs, Mughals, and Gurkhas before returning below the reigns of the British. Elite educational and other institutions were well-established during the British period. you can hire tempo traveller for outstation.
Amazing places in Dehradun by tempo traveler
Here are the amazing places in Dehradun which are attractive for the tourist.
 Dehradun International Cricket stadium – Dehradun international cricket stadium is also known as Rajiv Gandhi international cricket stadium. It is located in Raipur area of Dehradun. It is evaluated all the facilities, the officers found the standards for players amenities, media, and broadcast requirement. It is the first international stadium in Dehradun.
The clubhouse complex with its allied facilities of guest rooms, restaurants, banquet halls, bowling alley, and indoor sports facility will make this the new destination in the city.
 Robbers Cave – In Dehradun, It is located in Guchhupani. 8Km Distance from the center of Dehradun city in Uttranchal. Robber cave is the perfect picnic place and it is a  natural beauty, must be visited at least once. It is a river cave formed in the Himalaya.
 Fun Valley – Fun Valley is one of the biggest water parks in Dehradun. This place provides full fun for family and kids. It is also known as fully entrainment venue for family and friends to spend the tour.
open time:- 9 Am to 7 Am
Many places like  Criminals Cave, Tapkeshwar Temple, Lacchiwalla and har ki dun etc. You can Hire a tempo traveler from Delhi to Dehradun for your tour, It is very comfortable vehicles.
Hire Tempo Traveller from Delhi to Dehradun
Search for Tours
Search Transport Tour Packages