Book Tempo Traveller from Delhi to Shimla 
#About our company
Journey deal Travels the online leading company in New Delhi. Our company provide the Tempo Travellers for Delhi to Shimla at the best rate. This is just not deal only for tempo traveller, Although want to make strong relationships with the clients. We have Various types of tempo travellers are available like 9 seaters, 12 seaters and 15 seaters with luxury and very comfortable. We provide a very competitive cost to Our clients which is fitted with their budget.
If you are planning a three days tour for Shimla by tempo traveller. So, you can view our article Three Days shimla tour package by tempo traveller which you can book for your tour to Shimla from Delhi.
The tempo traveller which are available with us. We love to provide these vehicles to our customers are basically to various destinations from Delhi Noida Gurgaon. The most travelled destination from Delhi in Himachal Pradesh is Shimla. This destination may include other nearby locations like Chandigarh, Toy Train tour in Shimla and Manali.
Even you can hire tempo traveller from Delhi to other destinations in Himachal Pradesh. We have Best suited tempo traveller according to travellers need is specified in three categories. 9 Seater tempo traveller, 12 seater tempo traveller and 15 seater tempo traveller. All details about these three kinds of tempo travellers can be viewed by clicking on the relevant link for the specific vehicle here:
If you want to hire tempo traveller on rent from Delhi for a period time, We can also provide you and If you are planning to travel to Shimla and want to hire Tempo Traveller for Delhi to Shimla. you can contact tempotraveller.in for booking for any type of tempo traveller available in our fleet. Starting from 9 seaters to 15 seater traveller. This vehicle is mostly used for family or group tour. We request you to just let us know about your tour plan. And we will organize your booking with tempo traveller for Delhi to Shimla.
You can contact us at 9266660704, 9818879368 or email us at  [email protected]
#About Shimla Place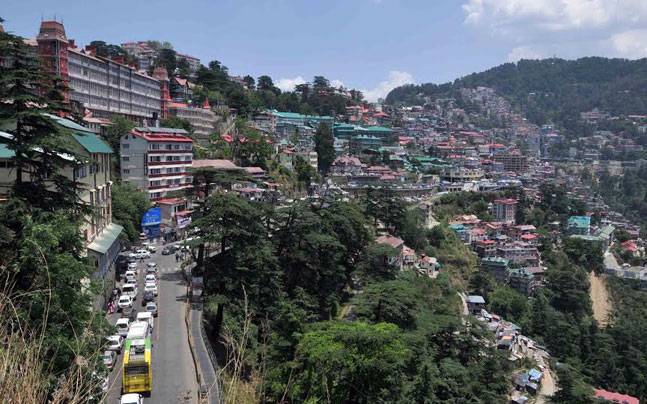 Shimla is a good tourist place and situated in State of Himachal Pradesh in India. It is also known as "Queen of the Hill stations" was the summer capital of British India before independence. It is situated in the north-west Himalayas at a height of 7238 feet.
Today, Shimla is the state capital of Himachal Pradesh.  The best option to visit Shimla any other location in Himachal Pradesh is by tempo traveller rent from Delhi according to your tour plans. It derives its name from "Shyamala", the goddess Kali. The English named it Shimla. This city is surrounded by thick pine forests, Himalayan oak, flowering rhododendron and devodaar trees.
Tourist attractions places in Shimla by tempo traveller
The major tourist attractions places in Shimla by tempo traveller they are:-
1. Ridge of Shimla – The Ridge of Shimla is the most popular attraction that is the heart of Shimla. The ridge of Shimla is located along the mall road that is the famous shopping centre.
It is known for organizing government function. There is a celebrate a summer festival that is the most famous held during the month of April or May. You can plan to visit in these months.
2. Kufri – Kufri is a hill station and adventure type of Places, You must visit for photographs. Another name of Kufri is also known as "the winter sports capital".
In Kufri, There is some exciting sport Like Sikking and ice skating. Kufri is located 19km from Shimla.
You can also hire tempo traveller for Kufri, visit here: Hire Tempo traveller from Delhi to Kufri in Himachal Pradesh
3. Jakhoo hill
4. Green Valley
5. Chail and more