15 seater tempo traveller rental service in delhi
15 seater tempo traveller has capacity of 15 people to accommodate in it. Our 15 seater tempo travellers are highly recommended for guest travelling to india and want to rent a vehicle in delhi for tours for agra, shimla, nainital, ranikhet, manali, srinagar and all major destinations covered from delhi by tempo traveller.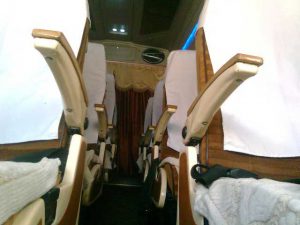 This vehicle is diffrent from 9 seater tempo traveller and 12 seater tempo traveller it has more space than 9 seater and 12 seater tempo traveller the vehicle has push back seats and a sofa cum bed at the last row which can be made as a bed also for old people to take rest.
Our customers majorly use this vehicle for long tours as it is more comfortable. We modify our vehicles in such a way that it looks completely luxury and extra ordinary interiors are visible in 15 seater tempo traveller.
We suggest our customers to compare the 15 seater vehicle which we provide and what others are providing to see the difference of quality of 15 seater tempo traveller in delhi which is better to choose and service guarantee is committed from our end.
The 15 seater vehicle which we provide can be used in a combo package with hotels also in which you can get price discount ask for combo service of tempo traveller and hotel from our representative when you call us. You can contact our representative at 09818879368 or email us your query at info@selldelhi.com
Below are the photoes of 15 seater tempo traveller which we have in delhi on rent.