12 Seater tempo traveller for rent In Delhi
12 Seater tempo traveller has 12 seats excluding driver and helper seats. We provide 12 seater tempo traveller for our customers on rent from delhi.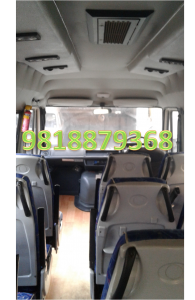 12 seater tempo traveller is Air conditioner and has push back seats. There is ample space for luggage at the end of vehicle and also luggage can be packed at the top of the vehicle.  When you are planning for long journey and that also by road. Then in that case the journey need to be comfortable because you never know what is the condition of the roads for which you are going to travel. The tour in which you start your tour from the metro city like delhi to a hill station for example tour to manali from delhi in such case you are going to cover the distance of 1400 K.M by road the journey to manali takes abour 14-15 Hours and if you are travelling in a peak season which is the summer time in North India in that case the weather is also very hot and you require a vehicle which should have AC in in. So the AC tempo traveller is best option to cover these kind of long journey.
Also in total if you will calculate you will see that to hire a 12 seater tempo traveller is more cost effective when you are travelling in a group. The per person cost comes to pocket friendly whereas you get this 12 seater tempo traveller on rent from delhi in which you can use it according to your convenience to cover all the siteseeing within your tour.
You can stop the tempo traveller at any point for relaxation and to have your food to your preffered food point during the tour. You can also take a breath in of the beautiful siteseeing point during your destination and take selfie and group photographs. This kind of convenience to travel according to your prefference is never found by any other mode of transport when you are in a group size of 12 people.
We have various types of tempo travellers which we provide for rent in which one is nine seater tempo traveller. 12 seater tempo traveller has two variants one is 2X1 Seating with sofa cum bed  and other has 2X1 seating only. In 2X1 seating only there are 12 seat .In 12 Seater tempo traveller  with sofa there are 12  seats and one sofa cum bed at the last in which 3 people can sit comfortably . You can rent 9 seater tempo traveller by us by calling at 9818879368. Guest can hire 12  seater tempo traveller from delhi and nearby locations. Also if you wish to rent  12  seater tempo traveller in delhi, 12 seater tempo traveller in gurgaon, 12 seater tempo traveller in faridabad,12 seater tempo traveller in  noida or nearby places this can be also booked by us  by calling at 9818879368
Vehicle Name
12 Seater Tempo Traveller
Manufatured by
Force Moters Pvt Ltd
Seating Capacity
12 reclining seats for passenger ( All pushback) +1 Driver+Helper
Feature

 4 Stroke, Vertical, IDI Engine
Air-conditioning/Heating
Comfortable Push-back Seats
Microphone
First Aid Box Ice Box
Curtains & Cushioned Seats with Covers
Ample Luggage Space
Head rest & neck rest
Individual seat belts
Leather fabric upholstery
Color LCD (as per the availability)
6 Fully pushback & 4 sofa seats
Specious and comfortable seats
Ac Vehicle
Ample leg space
Stereo system (as per the availability)
Icebox (as per the availability)
First Aid Box
Ample space for luggage
On top carrier
Neat & clean seat covers and curtains
Driver and cleaner in uniform