Hire Tempo Traveller from Delhi to Chandigarh in Punjab
We provide various type of tempo traveler to punjab which is the nearby state of Delhi but by road it takes time to reach to any part of punjab. Many people visit Delhi or other part of India and require a vehicle to return back with their families so they Hire Tempo Traveller from Delhi to Chandigarh in Punjab.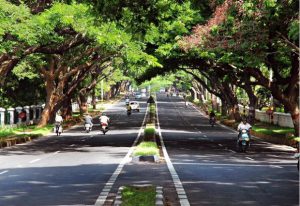 Chandigarh is a popular city in Punjab and well devloped city. Also there are many tourist attraction in chandigarh. There is a airport also in chandigarh which is connected major metro states. In the summer time many tourist take flight from mumbai find chandigarh to visit himachal pradesh and hire a tempo traveller in chandigarh for their onward journey to Shimla Manali tour.
You can Hire Tempo Traveller from Delhi to Chandigarh in Punjab from us and we have diffrent variants of tempo traveller on hire available for rent which are 9 seater tempo traveler, 12 seater and 15 seater. It is equipped with all the modern amenities and has a wonderful as well as comfortable seating. The 9 seater tempo traveler are PKN modified luxury tempo traveler with comfortable seating. It has all the basic amenities to fulfill all your inner desire.
We have best support for during journey with all kind of details of routes and online booking help. We provide both AC as well as Non Ac variants for hire in Delhi. The prices of the AC variants would be high as compared to the Non Ac variants. We provide 9 seater tempo traveler for outstation tour from Delhi as well as the nearby areas. We have large fleet of PKN Modified tourist luxury tempo traveller in both mode AC or Non AC. All the windows would be covered with the curtains which would be neat and clean.
All the tempo travelers would be equipped with the luggage space as well as the super comfortable luxury seats. All of tourist tempo traveller loaded with sofa and bed back to back push back seats. We work as the guiding torch for each traveler developed on the grounds of ethical and integrated business approach. We guide each and every traveler according to their tour plan and provide them with the best possible solution.call at 9818879368 or 9266660704 emailed support@journeydeal.com
[styled_box title="Styled box Title" type="sb" class=" sb_blue"]
Distance & Time it will take to travel Chandigarh by Tempo Traveller or Taxi from Delhi
This is one of the most beautiful and cleanest cities of India. There are many places to visit like Rock Garden, Sukhna Lake, Rose Garden, Sector 17 shopping complex and many others. Chandigarh is like an ideal place for everyone because of clean, green,
wide roads and less traffic. Chandigarh is a very popular en-route stop point of Himachal and Srinagar.so, plan your tour to the safest city Chandigarh by Tempo Traveller or Taxi. The time it takes you to reach Chandigarh will be 4 Hours 10 Minute to cover the distance of 244 K.M. from Delhi.
Nearby Sightseeing Places in Chandigarh which you can visit by hiring a tempo traveller are
Travelling By
Nearby Attraction
Tempo Traveller From Delhi with Sightseeing to The Rock Garden in Chandigarh
Tempo Traveller From Delhi with Sightseeing to Sukhna Lake in Chandigarh
Tempo Traveller From Delhi with Sightseeing to Zakir Hussain Rose Garden in Chandigarh
Tempo Traveller From Delhi with Sightseeing to ChattBir Zoo in Chandigarh
[/styled_box]
Tags:
12 seater tempo traveller in delhi to Chandigarh in Punjab
,
15 seater tempo traveller delhi to Chandigarh in Punjab
,
16 seater Tempo traveller Chandigarh in Punjab
,
9 seater tempo traveller delhi
,
Ac Luxury tempo traveller delhi to Chandigarh in Punjab
,
hire tempo traveller delhi to Chandigarh in Punjab
,
rent tempo traveller from delhi
,
rental tempo traveller delhi to Chandigarh in Punjab
,
tempo traveller rent from delhi to Chandigarh in Punjab