Tempo Traveller from Delhi to Ranthambore
Distance & Time it will take to travel by Tempo Traveller
Ranthambore National Park is a famous Tiger reserve national park in our country. You will definitely enjoy photography of lakes, ponds and animals here but make sure you take binoculars or a camera with a good zoom and to make your visit memorable. Ranthambore National park in Sawai Madhopur is the best place to visit, if you really like wild life.
Sightseeing in Ranthambore is one of the best experiences you can ever have. Apart from tigers this place also has many other attractions like leopards, sloth bear, Tiger, Lions, birds, deers, monkeys, bear, and giraffe. The scenic beauty of this park is also excellent and it has three very big and beautiful lakes which are Padam Talao, Rajbag Talao and Malik Talao. Here you must hire jeeps to enter the park which are very good with experience driver organized by Government and they have a great system of routes and booking. So, you don't have to worry from wild animals here. Here you can also see Rathambhore Fort which is very huge. Ranthambhore is spread in much and wild area. Ranthambhore Park is much attractive for tourist in Rajasthan. Ranthambhore National Park is the area where different types of foreign birds come here in spring season. If you are adventurous and love animal and nature then this place is a must visit place for you. So, plan your tour with your friends by Tempo traveler from Delhi to Ranthambore which is easily available in 9, 12 and 15 Seater at a reasonable price.
You have an almost hundred percent chance of seeing a tiger. The morning safari is the best for sighting the tigers. The jungle also is very charming and attractive. So, you don't have to worry about seeing one tiger though as there is plenty of other animals and birds to keep your camera busy.  You can also visit Jaipur which is very near to Ranthambore and a famous destination in Rajasthan. So, you must  plan at least once in your life tour to Ranthambore by Tempo Traveller, The time it takes you to reach Ranthambore will be 8 Hours 10 Minute to cover the distance of 381 K.M. from Delhi.
[styled_box title="Tempo Traveller Ranthambore" type="sb" class=" sb_blue"]
Nearby Sightseeing Places in Ranthambore which you can visit by hiring a tempo traveller are
Travelling By
 
Nearby Attraction
Tempo Traveller From Delhi with Sightseeing to Ranthambore Fort in Ranthambore
Tempo Traveller From Delhi with Sightseeing to Trinetra Ganesh Temple in Ranthambore
Tempo Traveller From Delhi with Sightseeing to Surwal Lake in Ranthambore
Tempo Traveller From Delhi with Sightseeing to Padam Lake in Ranthambore
[/styled_box]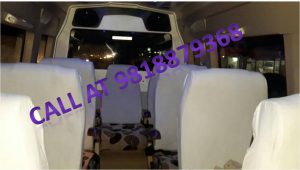 Tags:
12 seater tempo traveller delhi to Ranthambore
,
9 seater tempo traveller delhi to Ranthambore
,
tempo traveller 15 seater delhi to Ranthambore
,
tempo traveller delhi to Ranthambore