Tempo Traveller from Delhi to Bikaner
Distance & Time it will take to travel by Tempo Traveller
If ever beauty has bloomed in a desert, it has been at Bikaner. To feel the essence of desert and enjoy ride on camel back, you need to go for Bikaner Camel Safari Day tours. Camel safari takes you to a different world where the landscape is not green but stunning and it is an adventure of a different kind altogether. The imposing palaces, beautiful and richly sculptured temples of red and yellow sand stones display some of the finest creations of Rajput civilization. Bikaner is always a great experience for tourists. The presence of a number of tourist attractions in the forts and places make a distinct charm to Bikaner tours.
Places to visit in Bikaner is Junagarh fort, Lalgarh palace, Prachina museum, Hotel marudhar heritage, Seth bhandasar jain Temple, Deshnokh karni mata temple, Ganga Golden Jubilee Museum, Gajner lake, The Royal Cenotaphs, Shri Laxminath Temple, Gajner Wildlife Sanctuary, Bhattron ka chowk, Ganesh ji Temple, war memorial, cave of banka maharaj, Dharam nagar dwar and Camel Breeding Farm.
For shopping you can also visit Ghandhi Road for handicrafts, textiles, and minitaure paintings. Also you must try famous Bikaneri BHUJIA -a tangy mix of fried cereal comes from here.
If you want to see the shinning city which is the reflection of sun then you can make your plan between October to March to enjoy your winter here. The city is well connected to most of the parts of the country. You can easily access In Bikaner by Air, Train and road transport. The nearest airport to the city is the Jodhpur airport. The beautiful city is also well connected to other parts of the country by a wide network of roads. The excellent condition of roads that connects Bikaner provides a hassle free journey to the tourists. So, if you want a hassle free journey with your family and friends then you must hire Tempo traveler from Delhi to Bikaner which is available in 9,12 and 15 seater at a very reasonable cost and gives you a comfortable journey. So, plan your tour to Bikaner by Tempo Traveller, The time it takes you to reach Bikaner will be 8 Hours 20 Minute to cover the distance of 436 K.M. from Delhi.
[styled_box title="Tempo Traveller Bikaner" type="sb" class=" sb_blue"]
Nearby Sightseeing Places in Bikaner which you can visit by hiring a tempo traveller are
Travelling By
 
Nearby Attraction
Tempo Traveller From Delhi with Sightseeing to Junagarh Fort in Bikaner
Tempo Traveller From Delhi with Sightseeing to Karni Mata Temple in Bikaner
Tempo Traveller From Delhi with Sightseeing to Prachina Museum in Bikaner
Tempo Traveller From Delhi with Sightseeing to Ganga State Museum in Bikaner
[/styled_box]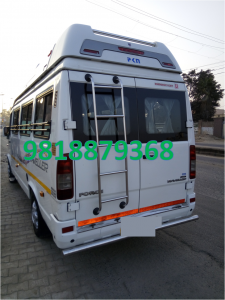 Tags:
12 seater tempo traveller delhi to Bikaner
,
18 seater tempo traveller delhi to Bikaner
,
9 seater tempo traveller delhi to Bikaner
,
tempo traveller 15 seater delhi to Bikaner
,
tempo traveller delhi to Bikaner
,
tempo traveller hire Delhi to Bikaner