Mathura a place for temples also known as Krishna Janm bhoomi with the famous Krishna Janm Bhoomi is in the heart of every Indian. Because the enchanting memories spread all over in nature of Mathura, This place is a favourate tourist spot while visiting Agra from Delhi. A group of 10 to 15 Person travelling together can hire tempo traveller from delhi to mathura in Uttar Pradesh from Tempo Traveller.in
The total distance from Delhi to mathura is 162 K.M and the time it takes to reach mathura by Taj Express way is about 2 Hours from Delhi. We recommend that you choose Taj Express way to reach Mathura by tempo traveller because this road is well devloped and you can cover the distance comfortably. If you want to extend your tour by tempo traveller from mathura to Agra or Fateh Pur Sikri you can do the same by taking the tempo traveller to Agra and all these places can be covered in a day.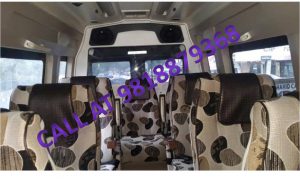 We request you to just let us know about your tour plan and we will organize your booking with tempo traveller to Mathura in Uttar Pradesh. You can contact us at 09266660704, 9818879368 or email is at [email protected]
Our Vehicle Contains below mentioned amenments
Sofa Seat in Tempo Traveller
Color LCD
Stereo System
Ice Box
On Top Carrier
Best Space for Luggage
[styled_box title="Styled box Title" type="sb" class=" sb_blue"]
Distance & Time it will take to travel Mathura by Tempo Traveller or Taxi from Delhi
Mathura is the birthplace of lord krishna. There are many beautiful temples to visit here. Prem mandir is one of the famous temples in Mathura. There are many small natural destinations to visit here like Krishna Balaram Mandir, Government Museum, Vishram ghat and Yamuna River which gives you the feel of real joy and peace in this place.
You can take Noida-Agra express way to reach Mathura which offers you a great travelling experience. So, plan your tour to Mathura by Tempo Traveller, The time it takes you to reach Mathura will be 3 Hours 15 Minute to cover the distance of 162 K.M. from Delhi.
Nearby Sightseeing Places in Mathura which you can visit by hiring a tempo traveller are
Travelling By
Nearby Attraction
Tempo Traveller From Delhi with Sightseeing to Yamuna River in Mathura
Tempo Traveller From Delhi with Sightseeing to Krishna Balaram Mandir in Mathura
Tempo Traveller From Delhi with Sightseeing to Vishram Ghat in Mathura
Tempo Traveller From Delhi with Sightseeing to Government Museum in Mathura
[/styled_box]
Tags:
10 seater tempo traveller in delhi for rent
,
12 seater tempo traveller dealer delhi to Mathura
,
15 seater tempo traveller in delhi for rent
,
tempo traveller charges delhi to Mathura in Uttar Pradesh
,
tempo traveller dealers in delhi
,
tempo traveller east delhi to Mathura
,
tempo traveller from delhi to Mathura in Uttar Pradesh
,
tempo traveller in delhi to Mathura price 16 seater
,
tempo traveller modification delhi to Mathura in Uttar Pradesh
,
tempo traveller on rent delhi 15 seater
,
tempo traveller on rent delhi Mathura
,
tempo traveller rates in delhi to Mathura in Uttar Pradesh
,
tempo traveller rental east delhi Mathura in Uttar Pradesh