Tempo Traveller from Delhi to Kullu
Distance & Time it will take to travel by Tempo Traveller
Kullu is a place which is regarded as treasure of beauty. Located in Himalayas with lush green mountains on either side and Beas River on the other side makes this picture perfect place. Kullu is famous for River Rafting. Kullu also is a base camp for many treks. These treks take you to places in the district which are accessible only on foot or by Donkey. Hence Chandrakhani Pass, Sar Pass are a must.
You must visit Kullu as it has such scenic beauty that you won't be able to get out of your mind for long time even after going back. Journey to Kullu is amazing, the way to Kullu is such scenic and is one of the best journey, you have ever enjoy, comprising of beautiful river, temples and peaceful nature. Must Visit Places in kullu is Raghunath Temple, Trithan Valley, Great Himalayan National Park, Kheer Ganga, Bijlimahadevan temple and Hangoi Mata temple. Kullu is place which gives you peace and makes your vacation memorable with your family. For that you need to hire Tempo traveler from Delhi to Kullu that makes your journey more comfortable which easily get in 9, 12 and 15 Seater in an affordable price from Delhi.
For Shopping, Kullu shawl factory is a must visit place. Food, as such is good and you must try MOMOS, Thukpa and Sidhuu. The Trout fish which is the local river fish is delicious. It just melts in your mouth.  Kullu is famous for some exciting activities like rafting, trekking, skiing, paragliding and which always kept in your mind. You can also extend your trip by visiting Manali which is 1.5 hrs away from Kullu. Manali has snow throughout the year. It is very romantic and set for a lot of bollywood flicks. Manikaran (1. 5 hrs away) is an important Sikh Pilgrim Center with natural Hot Water Springs.
The best time to visit in Kullu is April-May and if one wants to experience snow fall then Nov-Feb is also a good time but care should be taken that transport is still functioning during this time. Kullu is easily accessiable by bus, train and air. Nearby Airport is Bhuntar that is 10 KM from Kullu. If you have more than 8 members then you must hire Tempo traveler from Delhi to Kullu for comfortable journey. So, plan your for a tour to Kullu by Tempo Traveller, The time it takes you to reach Kullu will be 9 Hours 55 Minute to cover the distance of 496 K.M. from Delhi.
[styled_box title="Tempo Traveller Kullu" type="sb" class=" sb_blue"]
Nearby Sightseeing Places in Kullu which you can visit by hiring a tempo traveller are
Travelling By
 
Nearby Attraction
Tempo Traveller From Delhi with Sightseeing to Raghunath Temple in Kullu
Tempo Traveller From Delhi with Sightseeing to Mahadevi Tirth in Kullu
Tempo Traveller From Delhi with Sightseeing to Bijli Mahadev Temple in Kullu
Tempo Traveller From Delhi with Sightseeing to Jagannathi Temple in Kullu
[/styled_box]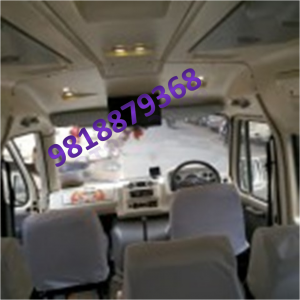 Tags:
12 seater tempo traveller delhi to Kullu
,
18 seater tempo traveller delhi to Kullu
,
9 seater tempo traveller delhi to Kullu
,
luxury tempo traveller hire delhi to Kullu
,
tempo traveller 09 seater delhi to Kullu
,
tempo traveller 15 seater delhi to Kullu
,
tempo traveller delhi to Kullu
,
tempo traveller hire Delhi to Kullu