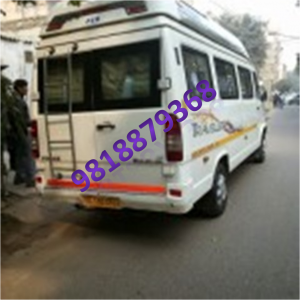 Kufri is a small Hill Station Located in Himachal Pradesh. The distance from Delhi to Kufri is 357 by google map but the distance may increase due to the new highways and roads devloped in route from delhi to Kufri. The time taken to reach kufri from delhi is about  7 to 8 Hours. The time it takes much to cover 357 K.M is because Kufri has hills and the vehicle travels slow in Hills.
You can hire a tempo traveller from Delhi to Kufri from tempotraveller.in which is best suited for Outstation tours. The tour can be completed by choosing any one type of tempo traveller for your tour.
You can choose tempo traveller for your tour from 9 seater , 12 seater or 15 seater tempo traveller. It depends how many are you in total and what luxury you require to cover the distance. There are many different kind of tempo travellers and these tempo traveller diffrer from one another according to the cost of the tempo traveller which you want to choose for per K.M tariff. To know more details what is the difference between our Standard Tempo Traveller and Luxury Tempo Traveller, you can contact us at 09266660704, 9818879368 or email is at support@journeydeal.com
Our Vehicle Contains below mentioned amendments
Sofa Seat in Tempo Traveller
Color LCD
Stereo System
Ice Box
On Top Carrier
Best Space for Luggage
[styled_box title="Styled box Title" type="sb" class=" sb_blue"]
Distance & Time it will take to travel Kufri by Tempo Traveller or Taxi from Delhi
If you are a nature lover and loves to see hilly places with snow then kufri will be the best place to visit, situated in Himachal Pradesh, upper shimla. For reaching at the top of Kuri you have to take horse ride. They will show you many places from horses like Asia's highest peak,
Satluj River, china hills etc but from very far. It will be fun loving for you when you reach at the top and see snow all over there. You can also visit zoo in kufri where you will see leopards, tigers, bears, deers etc. Shopping is also a fun activity which you can do here of wooden crafted items, shimla shawls, shimla jackets, shimla caps etc. So, plan your trip to Kufri by Tempo Traveller or Taxi. The time it takes you to reach Kufri will be 7 Hours 40 Minute to cover the distance of 357 K.M. from Delhi.
Nearby Sightseeing Places in Kufri which you can visit by hiring a tempo traveller are
Travelling By
Nearby Attraction
Tempo Traveller From Delhi with Sightseeing to Himalayan Nature Park in Kufri
Tempo Traveller From Delhi with Sightseeing to Kufri Fun World  in Kufri
Tempo Traveller From Delhi with Sightseeing to Shimla Reserve Forest Sanctuary in Kufri
Tempo Traveller From Delhi with Sightseeing to Nagsons Amusement Park in Kufri
[/styled_box]
Tags:
12 seater tempo traveller in delhi to Kufri in Himachal Pradesh
,
15 seater tempo traveller delhi to Kufri in Himachal Pradesh
,
16 seater Tempo traveller Kufri in Himachal Pradesh
,
9 seater tempo traveller delhi
,
Ac Luxury tempo traveller delhi to Kufri in Himachal Pradesh
,
hire tempo traveller delhi to Kufri in Himachal Pradesh
,
rent tempo traveller from delhi
,
rental tempo traveller delhi to Kufri in Himachal Pradesh
,
tempo traveller rent from delhi to Kufri in Himachal Pradesh