Tempo Traveller from Delhi to Jaisalmer
Distance & Time it will take to travel by Tempo Traveller
Jaisalmer is known for its famous "thar" desert in Jaisalmer. Its other most popular name is the golden city. Tourist can Hire Tempo Traveller from Delhi to Jaisalmer in Rajasthan tour is something which you will never forget in your lifetime. Jaisalmer is famous for Sand dunes, sunset, camels rides, jeep safari, and much more classical and traditional culture which you can experience here.
You can find here many historical places to visit like Patwon ki haveliyan which is a good place to click photos with wearing rahjasthani pagadi, Tazi Tower Located in Badal Palace, this 5 storey structure has a beautifully carved balconies with gorgeous individual designs. Another historical monument is Jaisalmer fort locally known as Sonar Quila is one of the largest forts in the world. which has some markets at starting with beautiful and creative stuffs prepared by localities over there. It gives you the most perfect view of the whole city from topmost point.
Hire Tempo Traveller from Delhi to Jaisalmer in Rajasthan which is the unique and beautiful palace to travel and experience the comfort from our luxury tempo travellers. The 25% population of the city resides inside the fort. Jaisalmer fort is made up of yellow stones. Its pride of India and jewel of Thar desert. The quality of the textiles, stonework and Jewelry was incredible. The fort has lots of ancient Jain temples. The fort is well planned and built with lots of scientific thought which shows how brilliant people were during that time. Jaisalmer is a perfect place for family vacation. So, plan your tour with your family by hire Tempo traveler from Delhi in which you get in 9, 12 and 15 seater at very reasonable rates.
Do not forget to visit famous Sam Sand Dunes in Jaisalmer located about 60 Kms from the market. One will need to take a jeep to go to the sand dunes. It is either a full jeep ride or a camel ride cutting across the desert. That's the best part of it all. Sitting on the back of the camel & enjoying the great Thar Desert is real fun. One has to experience this adventurous Desert Camel Safari to explore fascinating nearby historic sites, villages, desert and beautiful sunset. You will stay overnight in tent, enjoy haunting dusks, chilly dessert nights, folk dances, katputli ka khel, rajasthani songs and adventurous performances given by some girls.
If you want to make your evening memorable then you must visit Gadisar lake which is an artificial lake built to conserve rain water and provide a source of water for the residents of the dry town of Jaisalmer. This lake is very beautiful with several small islands and temples/structures within the lake. The lake has boating facility which can be enjoyed. You can also visit Bada Bagh built by Maharaja Jai Singh. It offers breathtaking view of sunrise and sunset. You can also visit nearby place of Jaisalmer like Jodhpur, Udaipur, and Bikaner.  If you want to enjoy road trip with your friends then Jaisalmer is an ideal place by hire Tempo traveller from Delhi.
If you want see desert than this is good place for you but I recommend visiting this city in winter because in summer there is too much hot in city. There is also a Desert National Park which is the most unique and largest national park of India.  The desert Park has lot of amazing things to put up from Huge Cactus to wild animals like Camel, Deer, fox and great birds in winters. The best time to go to this place is between October to February.  You can reach here by two means of transport by bus and by train. So, if you want to make your tour memorable then plan a tour to Jaisalmer by Tempo Traveller, The time it takes you to reach Jaisalmer will be 14 Hours 00 Minute to cover the distance of 758 K.M. from Delhi.
[styled_box title="Tempo Traveller Jaisalmer" type="sb" class=" sb_blue"]
Nearby Sightseeing Places in Jaisalmer which you can visit by hiring a tempo traveller are
Travelling By
 
Nearby Attraction
Tempo Traveller From Delhi with Sightseeing to Jaisalmer Fort  in Jaisalmer
Tempo Traveller From Delhi with Sightseeing to Patwon Ki Haveliyan in Jaisalmer
Tempo Traveller From Delhi with Sightseeing to Bada Bagh in Jaisalmer
Tempo Traveller From Delhi with Sightseeing to Tazia Tower in Jaisalmer
[/styled_box]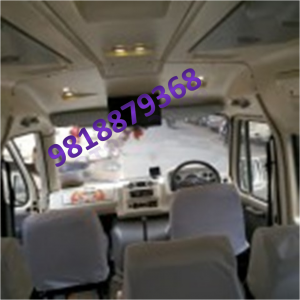 Tags:
12 seater tempo traveller delhi to Jaisalmer
,
9 seater tempo traveller delhi to Jaisalmer
,
luxury tempo traveller hire delhi to Jaisalmer
,
tempo traveller 09 seater delhi to Jaisalmer
,
tempo traveller 15 seater delhi to Jaisalmer
,
tempo traveller delhi to Jaisalmer
,
tempo traveller hire Delhi to Jaisalmer