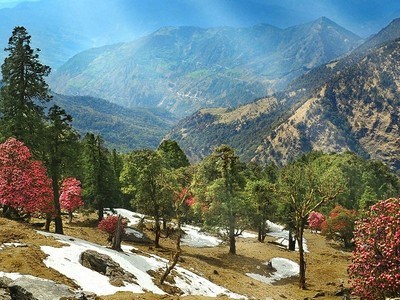 Almora is located in Uttaranchal, hill station which has lovely scenic beauty. You can travel to Almora from Delhi where in between you can visit Nainital and Ranikhet which are also a popular destination of Uttaranchal. The best time to visit Almora is in summer as this hill station provides relief and peace in summer and best suited at this time period. Visitors hire tempo traveller from Delhi to Almora in Uttaranchal with their family members. From various part of India, every year tourist visits Almora to explore this place. You will be provided air conditioner tempo traveller for your tour by tempotraveller.in.
We also provide tempo traveller for local sightseeing at Almora in Uttaranchal and also in a complete package with tempo traveller and hotel stay in Almora in Uttaranchal. We request you to just let us know about your tour plan and we will organize your booking for tempo traveller to Almora in Uttaranchal. You can contact us at 09266660704, 9818879368 or email us at [email protected]
From Delhi to Almora your journey would be a comfortable one by availing our services. You would get all the basic facilities of a tempo traveller along with other benefits. Almora is located on a ridge at the southern edge of the Kumaon Hills of the Himalaya range. Almora has a mild temperature all around the year and with occasional snowfall. It lies in the hilly state of Uttarakhand and is easily accessible by road transport. Unlike the neighbouring hill stations like Nainital and Shimla which were developed by the British, Almora was developed much before. It lies at 415 km from the state capital of Dehradun and the nearest hill station Nainital is located at 63 km. Almora was ruled by the Kumaon kingdom and was the seat of the Chand kings. You can contact us at 09266660704, 9818879368 or email us at [email protected]
Read more: Hire tempo traveller from Delhi to Jaisalmer in Rajasthan
Hire tempo traveller from Delhi to Sonamarg in Jammu and Kashmir
Five days Shimla with Manali by tempo traveller
[styled_box title="Styled box Title" type="sb" class=" sb_blue"]
Distance & Time it will take to travel Almora by Tempo Traveller or Taxi from Delhi
Almora is a famous hill station situated in Kumaon district of Uttrakhand state. This city is well known of its art, craft and heritage. Here you can see the panoramic view of Himalaya and other Peaks like Trishul and Nanda Devi are clearly visible. This place is also known for wildlife and adventure activity. This city is famous for its handcraft which is made by woollen, wood, cotton.
Almora is well-connected from Delhi. You can reach the place in your own vehicle or can hire buses, Volvo and Tempo traveller for yourself. This beautiful city is covered by jungles and greenery. Kathgodam is the nearest railway station, the route of this beautiful city is full of adventure and enjoyment. So, plan your trip to Almora by Tempo Traveller, The time it takes you to reach Almora will be 8 Hours 55 Minute to cover the distance of  364 K.M. from Delhi.
Nearby Sightseeing Places in Almora which you can visit by hiring a tempo traveller are
Travelling By
Nearby Attraction
Tempo Traveller From Delhi with Sightseeing to Nanda Devi Temple in Almora
Tempo Traveller From Delhi with Sightseeing to Kasar Devi Temple  in Almora
Tempo Traveller From Delhi with Sightseeing to Chitai Golu Devta Temple in Almora
Tempo Traveller From Delhi with Sightseeing to Karbala Graveyard Stone Of Swami Vivekananda in Almora
[/styled_box]
Tags:
12 seater tempo traveller in delhi to Almora in Uttaranchal
,
15 seater tempo traveller delhi to Almora in Uttaranchal
,
16 seater Tempo traveller Almora in Uttaranchal
,
9 seater tempo traveller delhi
,
Ac Luxury tempo traveller delhi to Almora in Uttaranchal
,
hire tempo traveller delhi to Almora in Uttaranchal
,
rent tempo traveller from delhi
,
rental tempo traveller delhi to Almora in Uttaranchal
,
tempo traveller rent from delhi to Almora in Uttaranchal